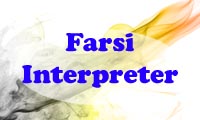 Farsi Interpreter:
A Farsi interpreter is a must in many occasions where oral communication with an Iranian partner / delegate / delegation / person either simultaneously or consecutively is going to be necessary. And nothing can be as dreadful as the time when suddenly you realize that your conference interpreter is unable to communicate properly the content of the keynote speakers' presentations to your target audience.

Our consultant interpreters are here to make your life a lot easier as we have done for many of our clients. Our professional simultaneous Farsi interpreter can immaculately serve your international events for business, sports, art, etc with an Iranian delegation / delegate in attendance. We can offer you a strong team of Farsi English interpreters, who can save you a lot of trouble, stress and panic.
Farsi Translator: Simultaneous Interpreter
An English Farsi simultaneous interpreter with perfect professional skills and code of ethics is an asset, who is usually very difficult to locate. But we feel we are well qualified and a leading player in the conference interpreting industry for Farsi and English. Proof to that? Our rich experience and a great number of testimonials of our customers.
Brilliant Farsi interpreters are already an integrated part of our team in Farsi Translator. Our Farsi interpreters have already proven their absolutely excellent interpretation capability in dozens of international events including conferences, summits, seminars, congresses and workshops where there has been an urgent need for a perfect Farsi interpreter.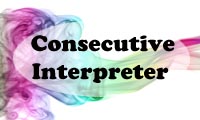 Farsi Translator: Consecutive Interpreter
Our English Farsi interpreters know the A to Z of how to deliver a perfect Farsi interpreting service both ethically and professionally. A consecutive Farsi interpreter is widely hired for smaller gatherings like business meetings, which is again a strong part of our comprehensive range of services.
If your meeting room is not big enough to accommodate simultaneous conference interpreting equipment, or your budget for interpreting is tight, or the number of your delegates is one or two, hiring a consecutive Farsi interpreter is the best solution to save costs and sustain quality at the same time. A speaker utters one or two sentences and pauses whereby the consecutive interpreter turns the statements into another language for the other party.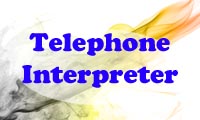 Farsi Translator: Telephone Interpreting
Farsi Translator also can provide telephone interpreting service within short notice. Always there is a professional English Farsi
interpreter on standby looking forward to fulfill with your common as well as emergency telephone needs.

This function of Farsi Translator is particularly useful when you and the party in a dialogue are too far from one another, so you have to make a phone call. One more possible situation is when no qualified trustworthy interpreter for English Farsi is available in your vicinity. Then give us a ring from your meeting room. We can help you via landline, mobile or Skype to interpret your talks real-time on the phone.