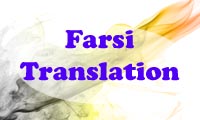 German - Farsi Translation: Deutsch Persisch Übersetzer
Farsi Translator is fully able to meet all your German to Farsi translation needs, with a well-organized German to Farsi translation team. The Translator is known as Deutsch Persisch Übersetzer in the German-speaking countries. As a native Farsi speaker, our German to Farsi translators can translate German business correspondence, marketing materials, machinery manuals, handbooks, etc simply perfectly.

Any companies / firms willing to reach Farsi-speaking community round the world can be assured of our quality / assistance. If you need to write and/or translate an email in Farsi, again you can trust on Farsi Translator.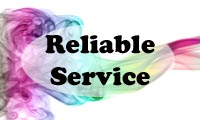 German to Farsi Translation: Reliable Service
Farsi is the native language of our German - Farsi translators, which along with their rich translation experience and educational background, can prove to be one of the most reliable sources of German - Farsi translation. Our services can be simply delivered worldwide.
Farsi Translator can also have one or two team members committed to your business / company if you place recurring German to Farsi work, for instance, business correspondence, etc. Your recurring emails to a Farsi-speaking business partner can also be translated at a reasonable price.
German to Farsi Translation: Fast Turnaround
Our German to Farsi translators make sure that the turnaround would be two hours for short translations and a.s.a.p for longer translation projects. We are confident to have lived up with the expectations of our German clients very well, whom are internationally known for their punctuality and demand for precise delivery of projects.
The well-defined project delivery process in Farsi Translator ensures a quick turnaround, leading to the customer satisfaction, which is our ultimate goal.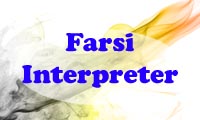 German to Farsi Translation: Farsi Interpreter
German Farsi interpreting service is one more pride in Farsi Translator. Our German Farsi interpreters, either simultaneous, consecutive and / or facilitating, can handle your local and international interpreting requirements.

This can be very helpful particularly when you have a business meeting, or tour / attend exhibitions, fairs, seminars, summits and simply any events, where you expect to meet Farsi-speaking delegates / people and you may be aware that both languages are very complicated. So trust our Farsi interpreters (Persisch-Deutsch Dolmetscher)